OUR FIFTH ANTHOLOGY!
AND GREAT PUBLICITY, TOO!
The Mesdames of Mayhem were the subject of the full-page article, "Murder, She Wrote", published in the Saturday Toronto Star on October 29, 2022. Contributing columnist Briony Smith wrote about our joy penning crime fiction – and our warm friendship. Read the full article in the Toronto Star.
AWARDS AND RECOGNITION
FAB BOOK LAUNCHES
THE LAUNCH(ES) OF IN THE SPIRIT OF 13!
On October 30th, we launched In the Spirit of 13 at our favorite bookstore, Sleuth of Baker Street. It was a smashing success! Sleuth's was packed with friends, fans, family and well-wishers.
A great highlight was making Sleuth's co-owner, Marian Misters, an honorary Mme of Mayhem.
We followed up on November 13th with a successful Zoom launch, with special thanks to backroom tech wizard, Ted Carrick.
MORE GREAT BOOK LAUNCHES!
CONFERENCES LIVE AND VIRTUAL!
Award-winning author, Mike Martin and his team brought the dream of a new national crime writers conferences to life with the Maple Leaf Mystery Conference, May 24th to 28th. Leading crime writers and guest authors were: Ian Rankin, Maureen Jennings, Vicky Delany, Rick Mofina and Iona Whishaw.
Several Mesdames moderated and/or participated on many panels: Catherine Astolfo, Jane Burfield, M. H. Callway, Melodie Campbell, Donna Carrick, Lisa de Nikolits, Rosemary McCracken, Lynne Murphy, Madona Skaff and Caro Soles.
On December 3rd, Mike Martin and his team returned to put on the virtual Ottawa Maple Leaf Mini-Conference to showcase Eastern Ontario crime writers, including Brenda Chapman and Mary Jane Maffini. Madona Skaff and Melissa Yi shared their knowledge on the day's panels.
Earlier in 2022, on March 9th, Mike and Madona Skaff held a workshop for Capital Crime Writers about the pros and cons of self-publishing, entitled Indie Publishing: A Fine Adventure or Evil Torture.
LEFT COAST CRIME, ALBUQUERQUE
In 2020, Left Coast Crime, San Diego, was forced to close after only half a day because of COVID. Two years later, from April 7 to 10th, LCC went live in Albuquerque, New Mexico. More than 200 authors and fans celebrated its return.
M. H. Callway was honored to be on the short story panel, moderated by Lisa Q. Matthews, and to moderate the panel on noir crime fiction.
MOTIVE: TORONTO INTERNATIONAL FESTIVAL OF AUTHORS
For the first time, the Toronto International Festival of Authors celebrated leading international crime writers from June 3 to 5th. Lisa de Nikolits was one of the Canadian authors invited!
Crime Writers of Canada hosted a booth with the help of M. H. Callway, Blair Keetch and Sylvia Warsh.
WORD ON THE STREET RETURNS
Toronto's annual book festival, Word on the Street, returned live on the June 11-12th weekend, moving back to its Queen's Park venue.
Caro Soles sponsored the booth for The Mesdames of Mayhem together with Blair Keetch and Rosemary McCracken.
WHEN WORDS COLLIDE, CALGARY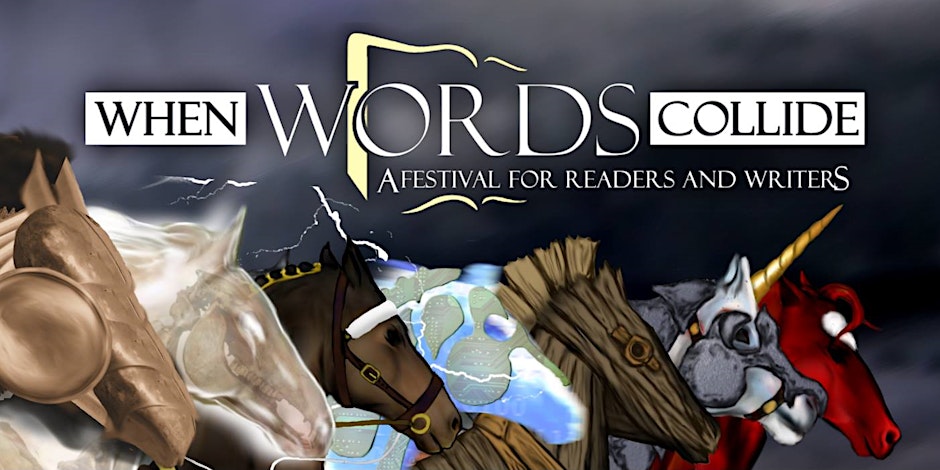 The multi-genre conference, When Words Collide, went virtual for 2020, 2021 and 2022. (This year, 2023, WWC will be live!) WWC took place on Zoom from August 12 to 15th with the support and participation of many genre associations, including the Crime Writers of Canada.
Jayne Barnard, M. H. Callway, Therese Greenwood and Kevin Thornton participated in and/or moderated the crime writing panels.
2022 – THE YEAR OF THE PODCAST!
Donna Carrick returned to host Season 5 of the podcast, Dead to Writes. In 2022, she interviewed 16 of the authors in our new anthology, In the Spirit of 13, as well as artist, Sarah Carrick, who has designed each of our five anthology covers. Listen here to the full Dead to Writes podcast series 5.
The Crime Writers of Canada stepped up podcasting in 2022, with author interviews to promote their 40th anniversary anthology, Cool Canadian Crime, featuring Melodie Campbell, Lisa de Nikolits, Blair Keetch, Rosemary McCracken, Lynne Murphy and Sylvia Warsh.
CWC also did a series of webinars on the craft of crime writing. Donna Carrick was featured in January where she discussed the art of short story writing.
LAST BUT NOT LEAST…
TORONTO SISTERS IN CRIME
Toronto Sisters in Crime continued to meet virtually except for their annual field trip. This year was a tour of the Arthur Conan Doyle Collection at the Toronto Reference Library – a terrific evening concluding with an in-person dinner afterwards.
Melodie Campbell was the guest presenter at SinC's March 9th meeting where she discussed humor in crime fiction in Over My Dead Body.
WONDERFUL NOIR AT THE BAR
Noir at the Bar Toronto returned to live events in 2022 at a new venue, The Duke of Kent pub, 2315 Yonge St. Its first Queer Noir at the Bar took place on June 8th with a reading by Caro Soles. Lynne Murphy and Lisa de Nikolits read at the September 29th meeting.
A big thank you to Rob Brunet and Hope Thompson for their support of Canadian crime writers – and the Mesdames and Messieurs of Mayhem.
AND A BIG HUG AND THANK YOU TO:
Marilyn Kay and Roz Place for keeping our newsletter running!